Join me for a new, live online course!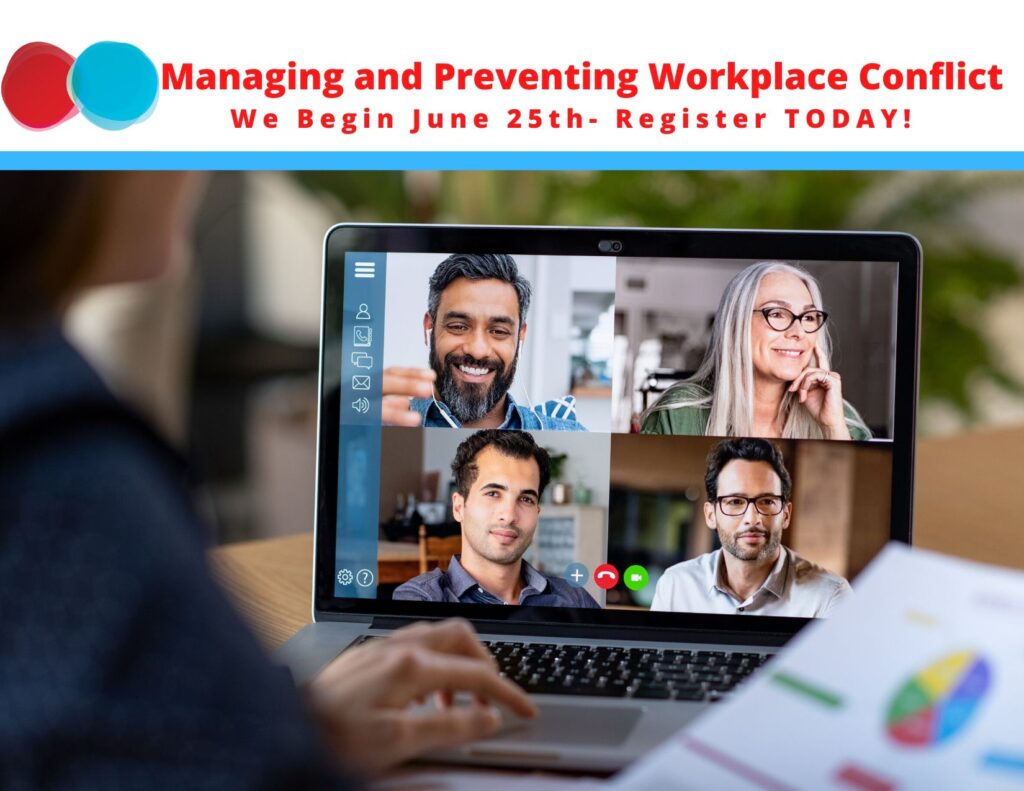 Navigating the challenges of the workplace in our new normal. With stress at an all time high because of the uncertainty of the situation and many people working from home, if at all, conflict is even more likely to happen or escalate.
The challenges are augmented with physical distancing.
Effective conflict management skills and self-awareness are even more necessary now in order to prevent the kind of conflict that can seriously derail work relationships and how we function within them.
Did You Know…
Workers spend an average of 2.8 hours per week dealing with conflict. That's almost 4 weeks a year lost, without even considering the impact managing that conflict can have outside the office. Left unchecked, conflict in the workplace can create a very unpleasant environment with negative effects on production, quality of work and the mental health of all involved. In the worst cases, it can result in malicious office gossip and employees taking increased numbers of sick days or even permanently leaving the team.
Because we are all uniquely individual, conflict is a normal part of working together and it's unrealistic to think it can be eliminated. Skills can, however, be learned to manage conflict so that outcomes lead to creative teamwork and a fulfilling and positive work environment. At the heart of collaborative and creative conflict resolving is the ability to get beneath the rigid positions that people in conflict often take.
This six-week course will provide insight into conflict solving styles, with a specific focus on collaboration and the key skill required to unlock impasse and open creative, mutually satisfying solutions.
June 25th – August 6th, 2020  |  $495 +HST
During this live online 6-week course you will learn:
5 Styles of Conflict Resolution, Your Preferred Style and How to Choose the Most Appropriate for Each Situation
The Mindset Shifts Necessary for Preventing and Addressing Conflict
A Simple Process for Avoiding Assumptions that Cause Conflict
How to Effectively Prepare for Difficult Conversations
How to Say What You Want to Say in a Way Others Can Hear You
How to Acknowledge Understanding so Others Really Feel Heard
A Simple Step-by-Step Process to Shift From Conflict to Collaboration
Course Components:
During the course, instructor Kirstin Lund will combine highly impactful interpersonal skills with a coached step by step process to prepare you to lead yourself and others through conflict. Half-day classes will take place live once a week for 4 weeks. The format will include presentation, demonstration, skills practice and small and large group discussions. In between sessions, self-reflection homework activities will support you apply the learning in real life. Included in the course registration fee is:
6 weekly classes (with a two week break) in a secure zoom room (recorded)
Downloadable materials
A certificate for 16 credit hours in conflict resolution training from CollabrationSchool.Com
Course dates and times:
Live sessions will be held in a secure zoom room (and will be recorded, though live attendance is strongly encouraged for maximum learning) on Thursdays from 9:30am-11am AST, beginning June 25th and ending August 6th, 2020. There will not be a session on the week of July 23rd.
Cost:
$495 +HST (Are you a private business? Send me an email to discuss the potential for partial funding that may be available to you.)