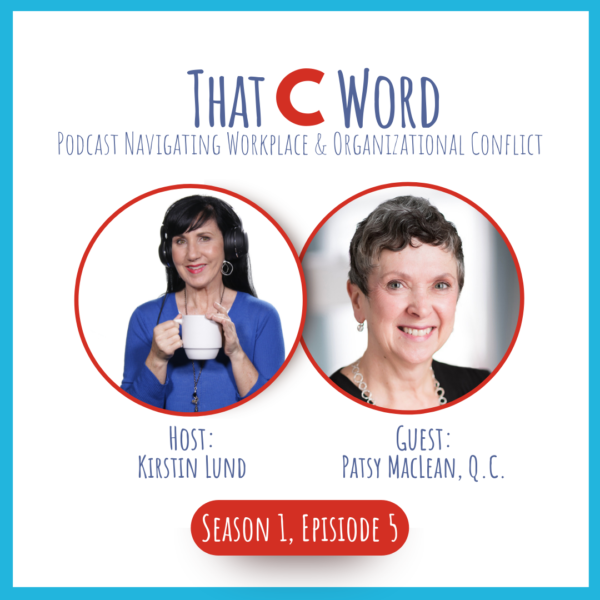 As a mediator and conflict coach, I help managers and their teams to stop losing sleep over everyday conflict and build more collaborative workplaces.
Psychologically Unsafe Workplaces: The Perfect Storm
Is your workplace a psychologically safe space? Employers have a duty to ensure their employees are safe. But does this extend beyond physical safety?
The rise in non-physical injury claims is a sign that something bigger may be happening in our workplaces.
Join me and my guest, Patsy MacLean, as we discuss the national standard for psychologically safe workplaces, what you can do to create a psychologically safe workplace, and how a rise in stress-related conflicts is an indication of workplace tension mounting into what Patsy calls "a perfect storm".
Join us as we talk about psychologically safe workplaces and that 'C' word.
About this week's guest: 
Patsy has a deep history in the healthcare and judicial systems with over 35 years experience. A primary facet of her work in either field is the underlying care for the people with whom she works. In addition to her robust education and experience in health care and the law, Patsy connects quickly and adeptly with clients and has the ability to create a safe space for clients during what can be challenging and difficult scenarios. Patsy is experienced in being a neutral party in workplace investigations, providing fair and focused counsel for clients. Patsy remains actively engaged in providing mentoring support and wise counsel to HR Atlantic partners, associates and clients.
In addition to her law and nursing degrees, Patsy has a host of training in alternative dispute resolution, mediation and conflict resolution. She is skilled at bringing divergent perspectives together and reconciling high-conflict groups and workplaces with the implementation of tangible, practical tools.
A passionate advocate for mental health, Patsy recognizes the importance of creating safe spaces and cultivating healthy environments within a workplace.
Patsy is actively involved in her community and is past chair of the Criminal Code Review Board, and chair of the Queen Elizabeth Hospital (QEH)Foundation.
Connect with Patsy on LinkedIn or find her online.
Tune in as chat about:
👉 How to create a healthy workplace.
👉 The national standard around psychologically safe workplaces.
👉 How to the lack of psychological safety impact a workplace and its people, how it can increase conflict and the steps you can take to ensure your workplace is adhering to the national standard.
That

C

Word Season 1 is here (and on Spotify and iTunes! New episodes available bi-weekly! 👇
In this episode, we mentioned the following resources:
Follow Kirstin Lund and collaborationschool.com
If you are a new listener to That C Word, I would love to hear from you. Please visit my Contact Page and let me know how I can help you today!
More from That

C

Word, season 1: