**UPDATED Program Dates: January 18th-19th; March 8th-9th; May 17th-18th**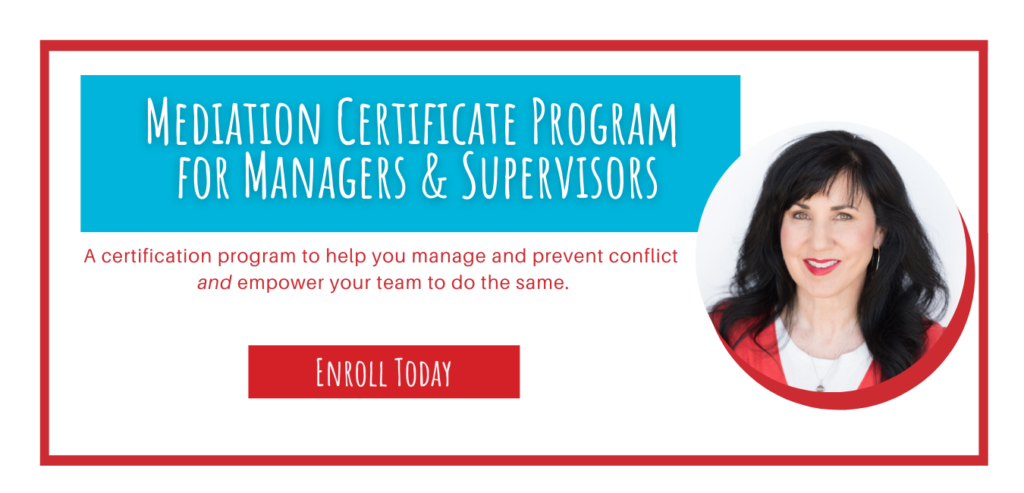 Learn the skills, strategies & tools you need to resolve team conflict now and keep it from escalating in the future.
If you are like most managers, you spend more than 40% of your time managing interpersonal conflict.
Sound familiar?
Frustrated staff come to you with conflict, and you aren't sure what to do or how to help.

Angry employees complain about a teammate, each accusing the other of disrespectful behaviour, and you aren't sure who to believe.
And they want you to solve it.
We live in a society where we're always looking for other people to solve our problems – a parent, a judge, the police, our manager…
But the reality is that a manager can't simply insist that their team get along (if they do it might seem like it's working for a while, but it just simmers under the surface, getting more and more toxic…). When we're talking about interpersonal conflict, it's the people involved who have to solve the problem (or else it's never going to actually get solved!).
A recent study by CareerBuilder.com shows that a whopping 58% of managers said they didn't receive any management training, including conflict resolution training.
So, how are you supposed to help your staff?
You might be able to insist that people speak to each other with respect or refrain from very clear bullying behavior.
But typically, the situation is not that cut and dry. Usually, different perspectives and personality types are at play. On top of that, people have different definitions of what being respectful even means. 
 All that to say, by the time your employee comes to you and asks you to solve the conflict for them, it's no wonder you feel like you don't know how to do that… because it's really not your job (and if you make it your job it always will be… hence the typical supervisor spending more than 40% of their time managing team conflict!)
The people involved in an interpersonal conflict need to find and agree together on the solutions themselves, with the coaching and support of their manager or supervisor using skills and, when necessary, a process that helps them focus on collaboration rather than competition. This enables all involved to come to lasting agreements together about how they'll each get their needs met in a way that also improves their relationship.
Bonus! This also helps prevents future conflict.
help people to resolve a current conflict while also teaching them that they have the skills and the

capacity to solve their own problems?

be able to do most conflict resolution in house without having to call someone in from outside?

use your mediation skills to deal with conflict as soon as it arises, before it escalates to those involved villainizing each other and getting to point of no return?

use mediation skills and processes as a way to facilitate group agreements that help the team to create a healthy and productive workplace?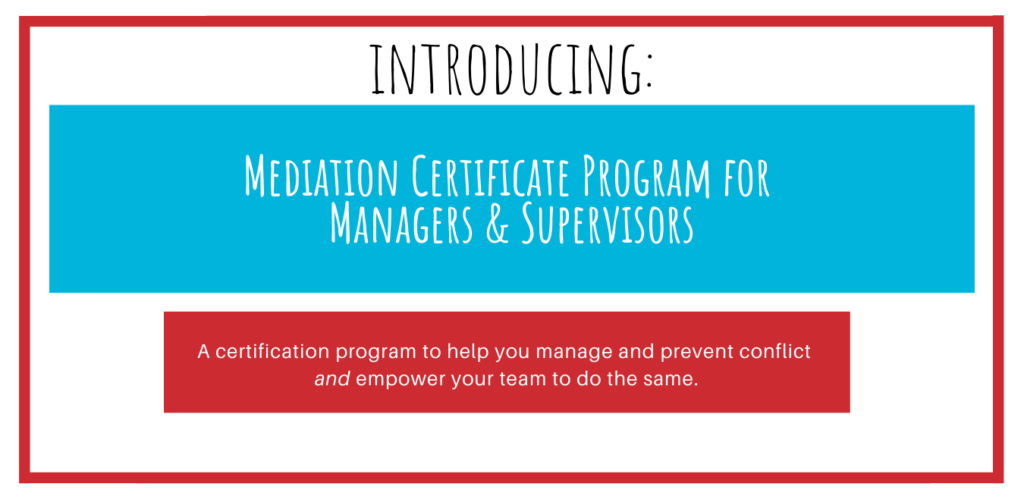 Register today to secure your spot by clicking the button below!
Here's What The Program Has To Offer
The Mediation Certificate Program for Managers & Supervisors is an in-person program limited to 16 participants and includes:
5 Styles of Conflict Resolution, and When the Style We Use for Mediation is Appropriate
The Key Principles, Benefits and Applications of Mediation
The Roles and Responsibilities of a Mediator
The Key Communication Skills of an Interest-Based Mediator
The 6 Steps of Needs-Based Mediation
The Transformational Skill of Identifying Key Issues and Interests to be Addressed
How to Coach Team Members to Shift to a Collaborative Mindset
How to Apply the 6 Steps of Needs-Based Mediation in Groups
Additional Components include:
A Comprehensive Participant Manual
A 36 Hour Certificate
Register For The Mediation Certificate Program For Managers & Supervisors Today: 
Space is limited so secure your spot today by registering below!
6 days of live training in Charlottetown, PEI
**Next Program Dates: January 18th-19th; March 8th-9th; May 17th-18th**
36 Hour Certificate Program | $1995+hst
How This Program Is Different
Most mediation courses focus on the mediator as a neutral person. But as a manager or supervisor, you know there are many times when having mediation skills would be so useful.
Realistically, we don't want to have to always call someone in from outside to resolve conflict – by the time we do that, it's so escalated people are talking about leaving, filing complaints and experiencing the grave impacts of a psychologically unsafe relationship. And it's so much harder to help people resolve conflict at that stage that it takes dozens of hours of a private mediator's time (not to mention all of the hours of staff time!) and costs thousands of dollars. If we can support our team to address conflict at the earliest stages, in house, we can prevent so much damage.
Can you be a mediator when you are not neutral? After all, you are in the office with the same people every day.
The truth is, there are times when it is most appropriate to bring a neutral person in to do the work.
But there are so many times when using the skills to deal with conflict as soon as it arises would stop it from escalating to that point where an outside mediator has to be hired.
You can also use mediation skills and processes as a way to prevent conflict and facilitate group agreements that help the team to create a productive, respectful and healthy workplace that people enjoy working in.
Meet Your Instructor, Kirstin Lund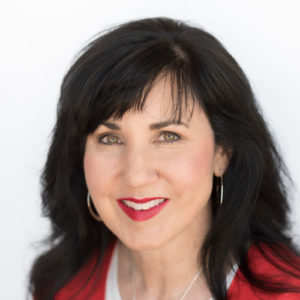 I left my law practice and became a mediator and conflict trainer and coach in 1996. While I have mediated disputes in a variety of contexts, my passion and focus is interpersonal workplace and organizational conflict. I have trained thousands of people to use mediation skills in the past two decades – in University classrooms, around boardroom tables, in meeting rooms, at outdoor challenge courses and online. I am a certified MBTI practitioner specializing in personality type and its impact on conflict management.
Over the past 25 years, I have developed unique skills and tools that have taken the mediation process I first learned from one that helped people to find solutions they could live with, to one that transforms relationships and prevents conflict; a process that leaves people truly satisfied and excited about moving forward in innovative ways they couldn't have conceived otherwise.
I look forward to helping you learn these valuable skills that will help transform your workplace as well.
Space is limited to 16 participants and this is a live, in person program.
Register today to hold your spot by clicking the link below.